Although I don't think this will be a reoccurring theme every week,
it was a fitting title for today's post.
I'm loving the new online painting sessions
that my dear blogging friend, Catherine is hosting.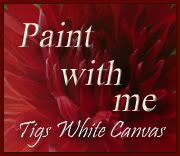 She just started her first watercolour session
and each week, we will work on a different phase of the painting.
 We just finished drawing our Iris and color blocking
so if you'd love to learn to paint with watercolours,
right now is the perfect time and I'd love for you to join us.
All you need is a set of watercolour paints, crayons, or pencils
and a sheet of watercolour paper.
For those of you thinking, "but you studied Fine Arts, Jami", I assure you; no worries.
I haven't worked with watercolours in at least 10 years and you use it, or lose it (at least in my case).
Catherine's sessions are designed for beginners
and I've happily plopped myself right back in that beginner category.


I am also loving this ruffled linen handbag.
(Nothing like a smooth transition.)
 
 Donna just added it to her Etsy shop,
which can be found in my Vintage Market
or you can just click this button.
I especially love the large rose
that can be removed and worn separately.
This handbag will soon be on it's way to yours truly.
I love my handbags like most of you love shoes.
My typical outfit is a pair of jeans, a t-shirt, a jersey scarf, pair of converse, and a cute bag.
Actually, my typical outfit is black cotton pj bottoms of which I have 20 pair & a t-shirt
but when I leave my front door, I get a little fancier with the jeans, etc. Ha!


What's your kind of fancy?
On another note,
I am also loving the kind heart of
my blogging friend, Rachel at French Farmhouse 425
who sent along this little zinc fleur-de-lis 
and the sweetest card with a French crown.
 It's true that the best things come in small packages.
Thank you, Rachel!


It seems I'm loving a lot today.
Still with me?


I don't have a British bone in my body
but I am in love with this Union Jack dresser
that Miss Mustard Seed painted.
That is one pretty flag.
If you haven't already read about it,
If you've ever been tempted to duplicate their styles,
this is your chance to try it…
and possibly win a great prize package.
If this frigid weather warms up a tad,
I'm hoping to sheet music (and faux copper) a desk
for my sis.
Did you know I have two younger sisters?
Sure do.

And we all live within a 5 minute drive of each other.
(Although we talk everyday, we don't see each other as much as you might think.)


Remember Becky (with the beautifully wrapped package) 
from last week?
Well, guess what I found in my email yesterday.
It seems she can make anything look fabulous.
That wall behind that beautiful chair,
is covered in authentic, antique, French documents
that she is adhering to the wall with wallpaper paste.
 Love it.

Becky isn't finished yet either.
She's awaiting a shipment of more French documents from a friend in Canada.
Becky,
if you're reading this, get yourself a blog, girl!
And finally,
I'm loving the Top 10 January finalists at The DIY Club.
(Click the button below to check them out.)
 The February party starts February 1 and the rules have changed!
You can now enter ANY project that you make
as long at is pictures the products you used and is a tutorial.
Check out the details here.

So that's what I'm loving today
(including each of you).
What are you loving today?
Thanks for reading
this long post with lots of tangents and major overuse of the words "love" & "loving"!
Due to "scraper" websites that earn revenue by scraping feeds (like an automatic copy & paste) and stealing the creative content of others, I can no longer provide FULL blog posts via email subscriptions. I apologize that you now see a partial post and have to click over to my blog for the rest. I try to create lovely and original content so I appreciate your understanding. If you don't, I am sorry to see you leave and thank you for being a part of my journey while you were subscribed. {Jami}