First, I want to thank you
on my clay tag post.
I can't tell you how happy it makes me
when someone loves something that I've made.
I'll be emailing each of you today.
I had a couple of unexpected wholesale orders come through
for my tags so I was once again, a busy lil' bee with that yesterday…
and counting my blessings along the way!
What are you thankful for today?
In addition to making more clay tags,
I put some finishing touches (honeydew & apple)
on my fancy bird seed cakes that will soon be in my shop.
A petite 4 1/2 in. tall, three layer cake
fit for our fanciest feathered friends.
 Topped with dehydrated apple and honeydew slices, of course.
I think they turned out adorable.
Sometimes the execution of your vision doesn't always work out the way you planned.
Happily, these did.
I was inspired to create my cakes
when I saw some little suet cakes made with vintage tart molds,
randomly sprinkled in an outdoor vignette
in the Autumn Issue of Jeanne d'arc Living Magazine
(that the lovely Ruth at The Beautiful Life gifted to me).
I think they'd make the cutest wedding favors,
wrapped in cellophane, tied with hemp, and a monogrammed tag.
Set on a pedestal, they'd make a darling table centerpiece
when entertaining guests indoors or outside.
A perfect gift for the bird lover…and birds.
I'll be making a few different flavors, too.
These need to finish drying but I couldn't wait to show you!
offered to take some pretty little photos of them for me
with her fancy, new lenses.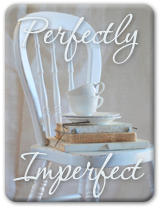 Thank you so much,
Shaunna!
They'll be in my Etsy shop afterward.
If you're interesting in pre-ordering, just email me.
I'll share the seed cake recipe with you soon.
Off to hug some babies
and make some more tags.
Thank you for reading.
Welcome, new friends.
Alabaster Rose Designs
D. Reyne's Everyday Elegance
Starfish Jewelry Design
Common Ground Petite Boutique
Flea with Me
Due to "scraper" websites that earn revenue by scraping feeds (like an automatic copy & paste) and stealing the creative content of others, I can no longer provide FULL blog posts via email subscriptions. I apologize that you now see a partial post and have to click over to my blog for the rest. I try to create lovely and original content so I appreciate your understanding. If you don't, I am sorry to see you leave and thank you for being a part of my journey while you were subscribed. {Jami}