Hope you all had a wonderful
I spent the holiday in Annapolis, MD
(my favorite city on the East coast)
I took a little road trip
 to deliver my first

(and hopefully not the last)

batch of shoes!
I'll post pictures of the shoes tomorrow
but wanted to share the deliciousness
of this vintage & antique mar
ket
place
with you.
It is such a quaint, little shop
and I wanted to ta
ke everything home with me.
Pac
king a family of five and wee
kend gear
into a Vol
kswagen Jetta
meant
that whatever I bought had to be
smooshable, crammable, and jammable.
(How do ya li
ke
them apples, Miriam Webster?)
I was met out front by this
beautiful, blue gray pump
kin
(among other things).
 I had never seen such a thing.
Have you?
It is a real, rare "Blue Pumpkin."
It looked as if it were painted with water colors 
with the speckled texture and shadowing.
(I know someone who's going to search for these pumpkin seeds next year.)
To the left of the pumpkin,
was Miss Mustard Seed's sign,
painted on a section of an old door.
She's so clever.
This heavenly shop was filled with gorgeous, painted furniture
but I apparently got so caught up in photographing
the adorable vignettes and details on the pieces,
that I have but a few photos of an entire piece of furniture.
Either way, you should not be disappointed…
   
This blue gray chair was perfectly painted and glazed.
(There was actually a set of four.)
 I thought this embellished, vintage clipboard was darling.
Another one of Marian's gorgeous handmade canvas banners…
I regret not buying this blue gray set from Holland.
I may need to check on having it shipped.
This mirror had sheet music peeking from behind the glass.
I need a tutorial on this because it was so pretty.
Marian's sheet music wreaths are even more beautiful up close.
I loved this two tone wreath.


Although I missed Marian on this visit,
I met the darling Kim of Serendipity
(one of the six talented girls at Wild Rose & Co.).
Her English (I think) accent added the sweetest,
comforting note to my visit.


One of her lovely bags came home with me.
I had a blissful, little Halloween visit 
I would show you a picture
but the costumes brought out their inner monsters.
Hopefully someone got a great picture for their scrapboo
ks because I certainly did not. 
All I want for Christmas is a picture of all three of my children facing the camera.
Not two loo
king
and one screaming his or her head off.
Not one sitting and two ta
king
off.
It would be really great if they all did something cute li
ke this.
You get the point.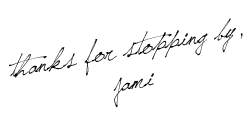 Due to "scraper" websites that earn revenue by scraping feeds (like an automatic copy & paste) and stealing the creative content of others, I can no longer provide FULL blog posts via email subscriptions. I apologize that you now see a partial post and have to click over to my blog for the rest. I try to create lovely and original content so I appreciate your understanding. If you don't, I am sorry to see you leave and thank you for being a part of my journey while you were subscribed. {Jami}