I decided to share a list
of projects that I intend to tackle
 Inspiration hit me last Thursday morning
so I got the sketch book out and started…sketching
.
(If I don't do that, an idea will leave my head as quickly as it entered. So frustrating.)
here's my list in no particular order
except for the first two…
got to cast their vote on my next project(s)!
 I can't wait to get started on them.
I'll provide tutorials for some,
including the things I intend to list on Etsy.
Which reminds me…
When I posted a tutorial for my laundry tote,
I was as
ked why I would provide a tutorial 
for something I intended to sell.
Well, my lovelies, here's how I see things:
 There are two types of people.
(Some are both.)
People li
ke me who loo
k at something and say,
You are who my tutorials are for.
There are also people li
ke me
who thin
k they can't ma
ke it,
want to or are able to support Etsy artisans (than
k you!)
,
or just don't have time to ma
ke something.
You are who my (in progress) Etsy shop is for.
Telling someone how to create what you sell
certainly isn't Business 101,
so that's what I'm gonna do.
Be sure to stop by on Thursday…
I'll be letting you in on my secret!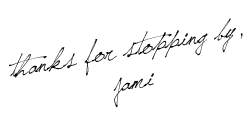 As always, thank you so much for reading and leaving your comments.
They really do motivate me and bring a smile to my face.
If you haven't heard from me yet, you will!
Due to "scraper" websites that earn revenue by scraping feeds (like an automatic copy & paste) and stealing the creative content of others, I can no longer provide FULL blog posts via email subscriptions. I apologize that you now see a partial post and have to click over to my blog for the rest. I try to create lovely and original content so I appreciate your understanding. If you don't, I am sorry to see you leave and thank you for being a part of my journey while you were subscribed. {Jami}