Thank you so much to everyone that linked up your sparkle…
and those that came by to ta
ke a pee
k.
I thought I'd be the only one at the party.
I had 16 projects and inspirations to choose from
and although I'd love to choose all of them,
here are a handful of my favorites.
several furniture pieces in a lovely palette of metallics.
She is rockin' this sparkly
trend.
added some bling to her already gorgeous
handmade, felted wool acorns.
How adorable would a handful of these be in a glass bowl
or on a fireplace mantel?
made this beautiful Halloween Mum with tutorial.
centerpiece with some tulle and spar
kle.
I am inspired to use white tulle and glitter
to create snow puffs for my holiday table scape.
She even gave us a tutorial, too.
And, how happy I was this afternoon
to chec
k the mail to find a pac
kage
I ordered the Meg nec
klace for my daughter, Edyn
and it's absolutely sweet and perfect.
The monogrammed charms are so dainty…perfect for my little girl.
 …and apparently they taste good, too.
I couldn't get a single photo of her without a couple of charms in her mouth!
Amber is offering my readers 15% off her beautiful designs
Just enter the code FREC
KLEDLAUNDRY at ch
ec
kout.
As for the Sunday Spar
kle party,
I had not planned on ma
king it a wee
kly thing…
unless of course, you want me to.
Just let me
know in the comments.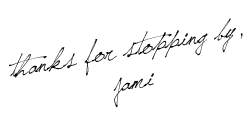 Due to "scraper" websites that earn revenue by scraping feeds (like an automatic copy & paste) and stealing the creative content of others, I can no longer provide FULL blog posts via email subscriptions. I apologize that you now see a partial post and have to click over to my blog for the rest. I try to create lovely and original content so I appreciate your understanding. If you don't, I am sorry to see you leave and thank you for being a part of my journey while you were subscribed. {Jami}