Thanks again for not going anywhere
while I wrap up a few things around here.
I'm nearly at the point where I
can devote more time to other projects again…
and tell you what I'm so excited for.
Sorry to keep you waiting.
I'm not only a blogger but a mommy too
and a sick Chicken Nugget required lots of cuddles this weekend
and there was nary a moment to wrap things up.
Gratefully, my mother watched the babes
while I whipped up a wedding gift on Friday.
 His and her laundry bags.
With a lavender sachet that holds a piece of chalk.
(Next time, I'll write in cursive with a chalk pen.)
I like to give a gift as well.
I told you I was a little old-fashioned. 
so one photo simply will not do.
I found a vintage, rubber stamp set complete with
two sizes of letters and numbers for 50 cents
at a yard sale over the summer.
With a little fabric ink,
I decided to use it for handmade labels.
  I went simple with the wrapping.
Brown craft paper, embellished with a crystal,
hemp rope, and a vellum quote.
I wasn't able to attend the lakeside
wedding
on Saturday so the husband went stag.
This mama wasn't leaving her sick baby for nothin'.
Back to the laundry bags,
listed in my Etsy shop,
which should be fully stoc
ked with other sweet things
by mid-November.
It's huge and I use mine everyday.
I was going to post a To-Do list 
of upcoming projects that I have planned
but this post is long enough.
I'll add the list tomorrow.
(You're going to love them!…I hope.)
There's still time to "air your laundry."
Party closes Tuesday at midnight.
Than
k you so much for lin
king up,
or just stopping by for a visit.
And, welcome new readers.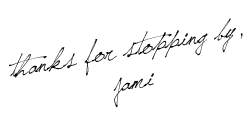 Due to "scraper" websites that earn revenue by scraping feeds (like an automatic copy & paste) and stealing the creative content of others, I can no longer provide FULL blog posts via email subscriptions. I apologize that you now see a partial post and have to click over to my blog for the rest. I try to create lovely and original content so I appreciate your understanding. If you don't, I am sorry to see you leave and thank you for being a part of my journey while you were subscribed. {Jami}