Today, I'm honored to be a guest over at her place.
Although I am inspired every day by all of you
and adore sharing the little things I ma
ke 
with the hope that I do might the same,
my favorite aspect of blogging is the friendships made.
Nothing warms my heart more
than the honor of being invited over to an old pals place
for a cup of virtual coffee and some chit chat.
So pour yourself a cup, too and head on over
to learn a little more about the freckles behind the laundry.
Sorry. I just couldn't resist that one. ;)
Thank you so very much for having me, Natalie!
And, there's still time to link up your sparkle.
vintage hanger petite chandie.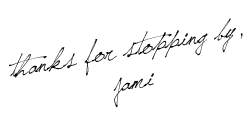 Due to "scraper" websites that earn revenue by scraping feeds (like an automatic copy & paste) and stealing the creative content of others, I can no longer provide FULL blog posts via email subscriptions. I apologize that you now see a partial post and have to click over to my blog for the rest. I try to create lovely and original content so I appreciate your understanding. If you don't, I am sorry to see you leave and thank you for being a part of my journey while you were subscribed. {Jami}