So I planned on sharing my
photo and crystal wire clothesline
but in an Einstein moment,
I accidentally botched the freckled bedroom
(where said project is set to be hung).
I was painting late Thursday night
and accidentally painted the trim the wall color
and the wall, the trim color.
But in my defense,
the colors are quite similar…
a white with warm gray undertones and just a warm white.
the yellow cast from the ceiling fixture
distorted the whites as I was painting.
I didn't have my glasses on.
Oh wait. I don't wear glasses.
I'm hoping to fix the ol' switcharoo soon
and share the project as soon as it's finished.
I do have some bling to share…
just not that bling. 
beautiful German glass glitter letters.
I fall in love every time I see them.
They are the first initials of each one of my 3 babes
and I adore them.
I also adored the reasonable price.
You won't find a $13 hanger in her shop.
That glitter is so amazing up close.
It doesn't sparkle like your typical craft glitter.
It shimmers and glistens and the visual texture is w.o.n.d.e.r.f.u.l.
It's finely crushed glass, after all.
What a wonderful wedding gift these would ma

ke
to adorn a gift package or card with the couple's monogram.
I'm a German glass glitter junkie now
and will be doing a quote above my sofa with it.
The glitter is pure silver as in Miss Mustard Seed's photos
but the reflection of my lights ma
ke it seem otherwise in the photographs.
Hope you're having a wonderful wee
kend. 
Update:
Completely forgot to tell you that
Miss Mustard Seed is hosting a Glitter Letter Workshop
in her new marketplace.
If I lived in the Walkersville, MD area,
I wouldn't miss this for anything.
She'll also be posting an online tutorial
for those of us that can't make it.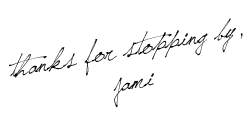 Due to "scraper" websites that earn revenue by scraping feeds (like an automatic copy & paste) and stealing the creative content of others, I can no longer provide FULL blog posts via email subscriptions. I apologize that you now see a partial post and have to click over to my blog for the rest. I try to create lovely and original content so I appreciate your understanding. If you don't, I am sorry to see you leave and thank you for being a part of my journey while you were subscribed. {Jami}