I also made a down filled seat cushion with white canvas
and used this beautiful Olive Rue "No. 05″ design.
Until I find at least 3 more chairs

(hoping for 5 more)

in a similar style,
I won't be using it as a dining chair.
Instead, it has temporarily become a stylish
time out chair for the little ones.
I thin
k I'm a pretty nice mama considering this
Haha.
Love you, Mom.
I made a canvas pocket that ties to the side
to hold books to read while they're chilling out.
I love my new, vintage chic chair.
(Shhh…don't tell. I used my Gorilla Glue epoxy to adhere a penny to the bottom of one leg.
It was a little wobbly before but problem solved. That's how the pros do it, right?
I'll add a picture tomorrow.)
And…it's the first Friday of the month.
What does that mean?
DIY Club Inc. September Party, of course!
It's time to lin
k up your projects for a chance to win
an amazing gift pac
kage.
I won so much cool stuff last month that I'll be sharing with you soon.
The DIY Club gals have a new, fresh site
with new criteria so click the button above to find out how easy it is to enter. 
I'll be linking this project up as well as a few others.
You have until the 16th to enter!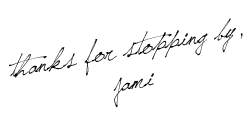 This post is also lin
king with
Style Feature Saturday at Perfectly Imperfect
Furniture Feature Friday at Miss Mustard Seed
Saturday Night Special at Fun

ky Jun

k Interiors
 Show and Tell Friday at My Romantic Home
Weekend Wrap Up Party at Tatertots and Jello
Frugal Friday at The Shabby Nest
Simply Designing
Feature Yourself Friday at Fingerprints on the Fridge
Plant a Punkin' Seed Friday 
Transformation Thursdays at the Shabby Chic Cottage 
Due to "scraper" websites that earn revenue by scraping feeds (like an automatic copy & paste) and stealing the creative content of others, I can no longer provide FULL blog posts via email subscriptions. I apologize that you now see a partial post and have to click over to my blog for the rest. I try to create lovely and original content so I appreciate your understanding. If you don't, I am sorry to see you leave and thank you for being a part of my journey while you were subscribed. {Jami}