What better way to get bac
k
into the chic home side of my blog
than a guest post from my sweet blogging pal, 
Natalie at Blossoming Visions.
Natalie happened to be posting
about the breathta
king scenery in the movie, The Not

eboo
k
.
And, no. Not just the dreamy Ryan Gosseling.
At that moment, I
knew that I stumbled upon a
kindred spirit
because that's the sort of thing I notice in a film.
I've had to rewind films too many times because I was so fixated on a copper pot
hanging on a shelf in the bac
kground or something.
Natalie is a lover and noticer of details
(pretty sure that isn't a word)
and her blog is such a refreshing place of inspiration 
with a great soundtrac
k.
Not to mention,
she's the cutest thing ever.
First and foremost, I'd like to thank the spectacular Jami for allowing me to guest post on her beautiful blog.  Not only is she one of my daily reads but she is quickly becoming a great friend.  I've been asked to answer a fun set of questions to which I'll do my best in keeping you entertained.  Please bear with me as I have no crafty DIY tutorials to share with you just yet, for I mostly post about things that inspire me.  One day I hope to be at the master level of creativity as our dear Jami.
Tell us a little about you and your blog.
My blog is my refuge.  It is my "getaway from life" spot where I dream about the things I'd like to do,  The places I wish I could visit, and the decor that inspires me to create.

I think my headline sums it up the best.  I am just another mother looking for the elegance in life.  I am a working, married, mother of two who has little to no time for herself (like so many others).  My blog is an extension of my memory.  I can store all the ideas I have about decorating my newly purchased home and  I'm able to share what motivates me.  In turn I get to learn about so many of you through your blogs and be inspired daily to keep looking for that old dresser to be repainted or burlap covered pillows.
What inspired you to create your blog?
Well let me just say that I am probably not the first person with this answer and I'm most certainly not the last.  I was completely inspired by the movie "Julie and Julia".  Have you seen it?  Watch it!  It's just a great girly movie.
I thought hey what a great way to capture my thoughts and ideas.  I've always liked graphic design, drawing, interior decorating, music, cooking, and shopping.  What better way to wrap everything up into a little bubble of me and keep me motivated?  Blogging of course! 
What do you want your readers to take away from your blog?
I wish I could say I'd like them to teach them a new craft or how to pinstripe a wall but the truth is that I'm learning far more than I could ever teach.
If anything I'd like my blog to be a place of fellowship and relaxation for my blogging friends.  Someplace where you can sit and sip on a cup of coffee or tea and let time slip away.  I can only hope that as my home comes together that my remodeling will help inspire someone, just as so many others have inspired me.
How would you describe your decorating style?
Hmm…where should I start?  I definitely have a deep admiration for anything "shabby" and my color palette almost always leans toward crisp whites or sandy beige.  The thing is I can't see myself owning a home completely devoted to floral motives and ruffles.  That is where the ocean theme steps in with nautical flair and seashells.  I am also not opposed to modern furniture and deep woods as accents.  Oh and did I mention that I have an appreciation for retro decor?  So now that I have thoroughly confused you, let me add that I wouldn't mind owning nearly every piece of furniture from Pottery Barn.  There I hope that sheds some light on the subject…
Would you rather be inside or outside?
What is your favorite room indoors or your favorite spot outdoors?
Oh this is a good question.  I literally cannot decide between the two because I love both equally right now.  I'm still settling into my house that I love, but yet if you offered me the beach right now I'd take you up on that offer in a heartbeat.  Right now my favorite room in my house is my bedroom.  It is my sanctuary.
My family, photos, books, the outdoors, music, HGTV, and wonderful blogs such as Freckled Laundry!
Photos are courtesy of Pottery Barn, theroxor.com, and yahoo image search
Than
ks for reading a bit about Natalie and her blog.
She's a blogger li
ke the rest of us
so won't you stop by and say, hello?
You'll get your Tuesday fix of inspiration
and some seriously pretty tunes.
I play her blog
music during my morning blog hops.
Than
k you so much, Natalie.
(And, you made me blush.)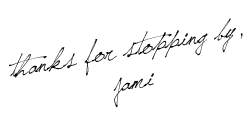 Due to "scraper" websites that earn revenue by scraping feeds (like an automatic copy & paste) and stealing the creative content of others, I can no longer provide FULL blog posts via email subscriptions. I apologize that you now see a partial post and have to click over to my blog for the rest. I try to create lovely and original content so I appreciate your understanding. If you don't, I am sorry to see you leave and thank you for being a part of my journey while you were subscribed. {Jami}