This rainy, Monday morning has provided
me the opportunity to wash
the linens, slipcovers, rugs, etc.
Seriously. Who takes a picture of their
laundry
?
Freckled laundry does, of course.
At the end of the day,
my bed will be a sea of texture
with white fluffy towels, dreamy linens,
and comfy cotton in all it's purity.
I'll want to climb right in among the piles 
and surround myself with softness 
as the soothing smell of white lilacs
Translation:
It's raining today and I love it.
I'll be washing all of my whites
and lugging load after load up and down
my creepy basement stairs because we do not yet
have the modern convenience of first floor laundry.
I'll fold them in my bedroom
in neatly stacked piles that are safe from six tiny hands.
I would fold them on the laundry table in the basement
but quite honestly, basements frighten me.
(Actually, spiders frighten me and spiders like basements.)
I will enjoy the beauty of all the white texture
and everything being fresh and clean
while thinking to myself,
"You just have to love white, Jami. Don't you?"
At the end of the day,
my back will ache from the fifteen trips up and down the stairs
(throw in a couple extra for unbalanced loads that need adjusting)
so I'll fall into the soft piles that I can't believe I still have to put away,
until a twin cries or a seven-year-old needs a cheese sandwich.
Oh, and the white lilac smell?
That would be this
Tide Pure Essentials in White Lilac scent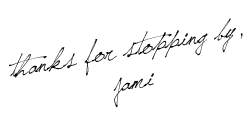 Also,
if you didn't catch yesterday's post,
I am so happy to be a finalist in the DIY Club's Top 12.
I'd love it if you'd click here and vote for my faux zinc nightstand.
Winner announced on Friday.
Thank you so much.
Due to "scraper" websites that earn revenue by scraping feeds (like an automatic copy & paste) and stealing the creative content of others, I can no longer provide FULL blog posts via email subscriptions. I apologize that you now see a partial post and have to click over to my blog for the rest. I try to create lovely and original content so I appreciate your understanding. If you don't, I am sorry to see you leave and thank you for being a part of my journey while you were subscribed. {Jami}