Despite having a dear friend and her beautiful children
visiting from Utah this week,
I was able to whip up a simple,
clothesline inspired, organization project.
Okay.
I didn't exactly "whip" it up.
I've actually been using this system for two years but decided
to change the embellishments on the board and clothespins.
Is that cheating? 
 
It's hanging in my craft room
but would work well in a kitchen, too!
Supplies
scrap piece of wood
fabric (enough to cover your wood)
felt (to cover back)
piece of elastic
embellishments (I chose fabric rosettes)
20 gauge wire
1 screw in mini hook
hanging hooks
6 tiny nails
31 clothespins
DecoArt Ebony Black acrylic paint (for clothespin numbers)
white card stock for monthly bill labels
tiny silver brads (optional)
Tools
hammer
screwdriver
staple gun or hot glue gun
First, I covered my piece of wood 
with a piece of scrap fabric,
folded it over to the backside, 
and stapled it to the wood.
Then, I took my elastic, 
pulled it tight,
and stapled the ends to the back.
Using two small pieces of elastic, 
I created loops to hold a pen and piece of chalk,
and stapled them to the back at the top.
I covered the entire backside with felt 
to prevent the staples from scratching my wall.
(Note: I added the pen loops after the fact 
but you will want them covered, too.)
I purchased two small hanging hooks from Michael's 
and screwed them in.
I embellished the front with fabric rosettes
but you can use felt flowers,
vintage photographs mounted to cardboard, etc.
(I stapled the elastic beneath the white rosettes, too.)
(I added a little vellum quote that I already had layin' around.)
In the center of the bottom,
I screwed in a little metal hook to hang a calendar.
Done.
To make the wire clothesline…
I painted (with DecoArt Ebony Black acrylic) 31 clothespins
purchased from the dollar store, 
numbered 1 through 31.
I added little flower embellishments 
to the front of a handful of clothespins.
To make them, 
I just cut tiny fabric circles 
and stuck a silver brad through the middles.
Then, I hot glued the flowers to the clothespins.
I
threaded 20 guage wire through 
the springs of the clothespins like this…
I strung 1 through 15 on top
and 16 through 31 on the bottom.
Finally,
I wrapped the ends of the wire
around tiny nails (the ones you hang pictures with)
to secure the clothesline to the wall.
Now for the organization…
I cut tiny rectangles with scalloped scissors,
wrote down the name of my monthly bills (i.e. "mortgage"),
and clipped them to their corresponding due dates.
Then, I clipped the actual bills, too.
To stay organized, clip the bill to clothespin as soon as you get it in the mail.
After you pay a bill, flip the label over so that you know that it's been paid.
You can also clip:
birthday cards to their corresponding dates
so that they're ready to mail out as the date approaches,
invitations,
appointment cards,
etc.
Use the elastic band for:
school schedules or lunch menus,
artwork,
notes,
business cards,
grocery lists,
etc.
For those of you looking for a simple way to get organized,
I hope this helps!
(I'll be sharing a vintage trunk refinish next week.)
Now that my laptop is feeling better
,
I'm
off to read and respond to all of the sweet comments
and questions that were left over the past few days.
Than

ks so much for leaving them!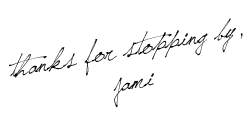 Due to "scraper" websites that earn revenue by scraping feeds (like an automatic copy & paste) and stealing the creative content of others, I can no longer provide FULL blog posts via email subscriptions. I apologize that you now see a partial post and have to click over to my blog for the rest. I try to create lovely and original content so I appreciate your understanding. If you don't, I am sorry to see you leave and thank you for being a part of my journey while you were subscribed. {Jami}