This wee
k, I was so happy to receive
 from my
friend, Natalie at
  Natalie was one of my very first followers
and her friendship means so much to me.
She is one of the sweetest bloggers out there
She puts together daily posts, 
that are so inspiring and
filled with elegant photographs that she
finds along her travels around the www.
And, you get to loo
k at it all while listening
I am constantly scrolling down to the bottom to see who it is that I'm listening to.
Natalie created this award herself
and I'm flattered to have received it.
(Just don't ta
ke it back if you ever taste my cooking.)
Than
k you so much, Natalie!
The rules are as follows:
1. Link back to the blogger who awarded you and don't forget to thank them!
2. Pay it forward to 5 deserving bloggers for their expertise on turning 
their homes, furniture, decor, etc. into masterpieces.
3. Answer these 5 questions about yourself:
~If you could befriend a famous person, who would it be?
I know I should
be choosing the President or some deserving humanitarian, but I'm going with Robert Pattinson on this one.
~What sounds make you happy?
Babies laughing, my son giggling, ocean waves,
thunderstorms, and bubble wrap popping. 
~What is your favorite dessert?
Good, old-fashioned, warm Apple Pie a la mode
~Which holiday do you look forward to the most?
I love the snow, the snuggly sweaters, the Christmas carols, 
family traditions, the comforting meals, and watching the loo
k
on Jaden's face Christmas morning. 
This year, I get to see more eyes twinkle with the twins
!
~What is your all-time favorite movie?
Let's get this ball rolling…
1. French at Heart – Rachel is a new blogger on the scene and her love of white and vintage tic
kles my fancy.
2. An Angel at My Table – Mari is a Swedish blogger and let's face it, Swedish bloggers ta
ke the ca
ke when it comes to white, vintage chic homes. Her home and photography will truly floor you.
3. Blue Clear Sky – Elizabeth is a Jill of all trades with a beautiful collection of mason jars that she uniquely displays throughout her home. Head on over…She's hosting a giveaway for some beautiful dish cloths that she crocheted herself. I'm telling you, she does everything!
4. Cottage Elements – I recently discovered Lanette's blog and it is…cool. Her button says it all.
5. Cozy Little House – The best part about blogging isn't the beautiful homes and projects that you come across, it's the beautiful people
. Brenda at Cozy Little House is just a really good soul. Not only does she share her lovely home on her blog but every wee
k she ta
kes time to introduce new blogs and ma
ke them smile with her Welcome Wagon. Stop by and feel right at home.
Than
k you again, Natalie!
And…than
k you, Megan at
for the $20 Target Gift Card!
Than
k you, Stephanie Lynn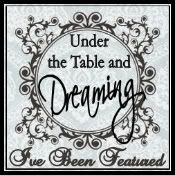 for featuring my antique crate.
Thank you, Erin at Like Grandmas 
for supporting me with the DIY Club
(and anyone else that voted or posted about it)!
Gosh. 
I hope you all
know that I write these posts only to show my gratitude. 
They are not at all meant to brag. I get so uncomfortable posting them 
but please
know
that I'm just very grateful…and humble!
I'm a little fish in a big pond of amazing talent and I get a little happy when someone gives me a
worm.
O
kay
. That was Swiss cheesy.
 Have a great weekend!
I'm finishing my Living Room s
ketch and will be sharing that and some other plans with you tomorrow!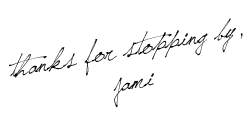 Due to "scraper" websites that earn revenue by scraping feeds (like an automatic copy & paste) and stealing the creative content of others, I can no longer provide FULL blog posts via email subscriptions. I apologize that you now see a partial post and have to click over to my blog for the rest. I try to create lovely and original content so I appreciate your understanding. If you don't, I am sorry to see you leave and thank you for being a part of my journey while you were subscribed. {Jami}