Than
ks so much for entering my first giveaway
and leaving your sweet comments.
48 frec
kled friends
commented,
and the winner of the laundry tote is
Sarah at My Yellow House
(I have no idea how to get the random.org image on my blog
so I just too
k a picture. Hey, it works.)
Congratulations, Sarah! 
Get in touch with me through email. 
Have a great wee
kend, everyone.
I'll see you on Monday with a faux zinc project.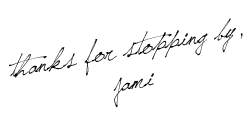 Due to "scraper" websites that earn revenue by scraping feeds (like an automatic copy & paste) and stealing the creative content of others, I can no longer provide FULL blog posts via email subscriptions. I apologize that you now see a partial post and have to click over to my blog for the rest. I try to create lovely and original content so I appreciate your understanding. If you don't, I am sorry to see you leave and thank you for being a part of my journey while you were subscribed. {Jami}